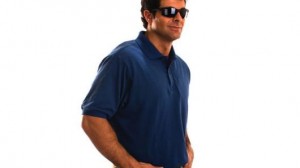 For those who always have an eye for personal safety and security, but do not want to make the people around them uncomfortable, especially during informal occasions such as receptions or open-air parties, the Colombian fashion designer Miguel Caballero has designed a polo shirt which, at a first casual glance, may appear just like an absolutely normal, even quite non descript shirt.
Actually, it is a bulletproof polo shirt, tailored from a special fiber made up of impact-proof panels, capable of protecting the bearer from bullets shot from a range of weapons from a 9mm shotgun to an Uzi machine gun.
The Colombian fashion designer is specialized in manufacturing of everyday clothes such as jackets, shirts, leather overcoats or tuxedos, which allow the one who wears them to move freely without suffering from the weight of a bulletproof vest or from the heat, and most of all to do it in a completely natural way, without creating trouble or panic in the people surrounding them.
Obviously all this comes at a price, and not a low one (the bulletproof polo shirt costs 12,000 US$), but for the personal safety and security of customers such as the US President Barack Obama, the President of Venezuela Hugo Chavez, and Prince Felipe of Spain, the price is certainly not as important as security combined with relaxation, although I have to admit, that your writer would not love the idea of finding himself at a party where the invitees are wearing bulletproof shirts…