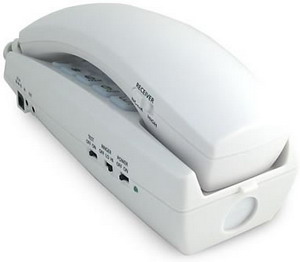 When we leave for holidays, but also when we go out for a weekend in the countryside, or when we just want to spend an evening out with our friends, the danger is constantly present for our homes, which might be visited by burglars or thieves, especially if we do not take the appropriate security measures.
To feel always protected without having to worry all the time for things to be under control at home, we can use Tel-Alarm, not a simple alarm system but a real spy phone, which behind the appearance of a normal home phone also hides a motion detection sensor and a very sensitive microphone.
Thanks to these characteristics, it can be used as a remote audio monitoring system. All you have to do is store your mobile phone number and activate the motion detector.
By doing this, as soon as the sensor detects a motion inside your home, the microphone will automatically be activated to listen to the sounds and noises coming from inside, while the phone will automatically call you on the preset number, thus putting you in touch with your home and making you listen in real time to what happens.
The in-built sensor can detect movements within a range of approximately 10 meters, providing optimal protection for the average city flat, and allowing you to act immediately (preferably by calling the police) if any dangerous situation for your home and belongings should arise.
Thanks to Tel-Alarm you will be able to enjoy your holidays or your leisure time, without any fear of unpleasant surprises upon your return!