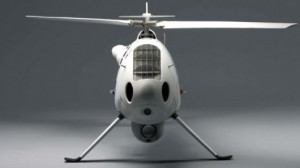 Boeing and the Austrian company Schiebel Industries are setting up a cooperation in order to distribute the S-100 Camcopter radio-operated mini helicopter, manufactured by Schiebel, which can carry up to 50 kg (or 25 kg in standard configuration) with an operating time of 6 hours.
Generally, Camcopter is teamed up with video or photographic equipment, and used for military reconnaissance or scientific aerial photography. It is controlled remotely through a very user-friendly point-and-click computer software; it can also be operated and guided manually with a joystick, thanks to its radio connection with a maximum operating range of 200 kilometers at a maximum height of 2500 meters.
Thanks to its carbon-fiber monocoque, Camcopter provides extreme toughness combined with a light weight which makes it reach, in standard configuration, a whopping 100 knots speed. The INS (Inertial Navigation System), connected with GPS receivers, provides the necessary stability to obtain high quality images and videos.
Vic Sweberg, director of Boeing UAS (Unmanned Airborne Systems) Division, has stated that "this distribution agreement with Schiebel will allow Boeing to offer one more quality product, enhancing the possibilities and options offered by our division, in order to provide tailor-made solutions for clients who rely on the information and intelligence that such a device can gather". Boeing's UAS Division, at the moment, produces unmanned vehicles such as MQ-X, ScanEagle, Solar Eagle and A160T Hummingbird.