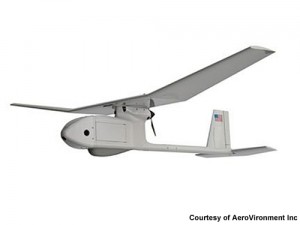 In war zones, especially if the terrain's morphology is not suitable for sending armed troops for a reconnaissance operation, or where a plane would be in danger of being brought down by enemy forces, the usage of drones, or UAS (Unmanned Aircraft Systems) such as RQ-11 Raven has become commonplace.
RQ-11 Raven, produced by the California-based AeroVironment, is perfect for operations that require a high operating speed and flexibility in movement, such as low-quote reconnaissance operations or acquiring of targets. Aside from military type applications, it is also suitable for commercial or scientific activities, such as photography from above (it can reach a maximum height of 300 meters and a speed of 45 kilometers per hour) or monitoring of sensitive areas.
It can be remotely driven manually, or follow a path towards a software-programmed destination, whose navigation is handled by GPS sensors. There are two models, slightly different in size, weight and characteristics. Raven A is suitable both for military and commercial operations, while Raven B is mostly designed for field activities and is currently the most advanced model used by the US armed forces.
Its automation features and the intensive use of GPS technology make it easy to handle and bring to destination, and the three different cameras installed can shoot color pictures or capture IR images at night.
RQ-11 Raven costs approximately 35,000 US dollars, while the full-featured systems including cameras and accessories can cost up to 250,000 dollars.