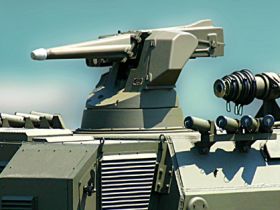 The Italian Ministry of Defense is in the process of making an agreement with Oto Melara industries for production and supply of radio controlled gun turrets, to be mounted on the Italian Army's armored vehicles LMV (Light Multirole Vehicle) manufactured by Iveco.
The LMVs deployed on the Afghan theatre, though extremely versatile and flexible, have an Achilles' heel in their turret, where a soldier is placed who operates a machine gun. This configuration exposes soldiers on the turret to a risk of being ambushed, as it was the case earlier in July this year, when an assault claimed the life of an Italian soldier standing on the turret of his vehicle.
In order to try and minimize this risk, the Ministry decided to use remote controlled gun turrets, and the model of choice is Hitrole Light, produced by Oto Melara, a division of the public holding Finmeccanica.
The Hitrole Light turret can host two different types of machine guns (12.7 and 7.62mm) as well as a 40mm grenade thrower, and is equipped with a thermal camera, a laser sensor and a TV camera.
Furthermore, the Italian Army has also placed an order for supply of protective shields for its armored vehicles; these shields are completely surrounding the soldier on the turret. While some vehicles will be equipped with the remote controlled turret, others will receive this shield, thus providing a higher security to military personnel.
Delivery of the first turrets is scheduled to take place within 6/7 months, and thanks to them it will be possible to reduce the level of danger for Italian soldiers in Afghanistan. The higher protection level on armored vehicles will only increase the efficiency of Afghanistan's Italian mission.